Thailand process service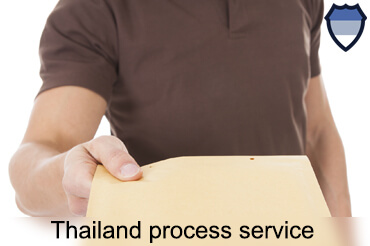 Process serving is used to give notice to a person or business and can be required in a number of different scenarios. For example, we commonly serve divorce papers on people that have come to live in Thailand from overseas jurisdictions. Summonses might require serving in small claims court cases, family court disputes, bankruptcy or winding up petitions, and under many other different circumstances.
Please be assured that we will take every possible action in our efforts to secure a prompt and successful service. We are the first port of call for many lawyers and investigators throughout the world.
Often process serving cases can pass through a series of middlemen before the case is handed to a serving agent… That buck usually stops with us. We are a company based in Thailand with feet on the ground here.
Requirements for process serving tend to vary between jurisdictions and the type of document being served. In some situations we are simply required to print documents and ensure prompt delivery to the intended recipient by courier. Other cases require a more hands on approach where the paperwork is physically handed over by our agents.
In process serving cases we must first understand how the documents should be served in order to satisfy the requirements of our client's jurisdiction.
Efficient and cost effective process serving
Our detectives are experienced in serving documents all over the country. We have agents across Thailand which enables us to offer a cost effective solution to process serving.
We can serve documents for all manner of different reasons and will work with you to find the best possible solution in your case. We can offer normal and expedited services in the event that urgent delivery is required.
As a leading detective agency based in Thailand, we can also call on our expertise and contacts to trace people before serving them with documents.
When getting in touch with us regarding process serving, please include as much information as possible in your inquiry. For example, in which province you need us to work, the type of documents to be served and basic information about the recipient. If the recipient's location is unknown, please advise us on all the relevant details which are known about the recipient and their potential whereabouts. We will do our best to help and respond to your inquiry as soon as possible.