Thailand process service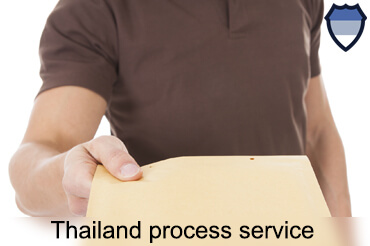 Process serving is used to give notice to a person or business and can be required in a number of different cases. For example, we commonly serve divorce papers on subjects that have come to live in Thailand from overseas jurisdictions. Summonses might also need to be served in small claims court cases, family court disputes, bankruptcy or winding up petitions, and under many other different circumstances.
Often is the case that process serving tasks can pass through a series of middlemen before the case is handed to a serving agent… That buck usually stops with us. We are a company based in Thailand with feet on the ground here.
We will take every possible action in our efforts to secure a prompt and successful service; our team will endeavour to understand your requirements and offer the fastest and most cost-effective solution in each case.
Requirements for process serving tend to vary between jurisdictions and the type of document being served. In some situations, we are simply required to print documents and ensure prompt delivery to the intended recipient by courier. Other cases require a more hands on approach where the paperwork is physically served by our agents.
When getting in touch with us regarding a process serving case, please be sure to include the following details:
The type of documents being served and whether the subject is likely to be amiable whilst being served
The subject's location within Thailand (the district/province in which they live, preferably along with their full address)
Evidence required by your jurisdiction as confirmation of the service
In process serving cases we must first understand how the documents should be served in order to satisfy the requirements of our client's jurisdiction. Please describe your requirements in as much detail as possible so that we are able to understand your needs before going ahead.
Critically, we will also need to know the subject's precise whereabouts within Thailand in order to calculate our travel time and provide a quote.
If the subject's location is unknown, then please let us know and include any information which you hold on them and their potential whereabouts. We will need as many details as possible in order to assess the case and understand how we are able to help.
Reasons for requiring a process server
Process servers are typically required in order to gather proof of service for lawyers/law firms. Process servers can hand deliver documents and establish proof of service, thereby foregoing allegations from the defendant that they were not served, and establishing the court's jurisdiction over them in so doing.
We can help to serve a variety of different documents as part of process serving, including divorce paperwork, statutory demands, prohibition orders, family papers, orders to attend court, non-molestation orders, and more.
Each jurisdiction will typically set their own rules which govern the manner of service which should be observed in each case. In the United States of America, for example, many states prohibit the serving of documents on Sundays, holidays, or election days. Much will depend on the rules of your jurisdiction and the type of documents being served. Please let us know whether any such requirements apply during an international service in your case.
Efficient and cost-effective process serving
Our detectives are experienced in serving documents all over the country. We have agents across Thailand which enables us to offer a cost-effective solution to process serving.
We can serve documents for all manner of different reasons and will work with you to find the best possible solution in your case. We can offer normal and expedited services in the event that urgent delivery is required.
Skip tracing in Thailand
If you need us to serve documents on an individual based in Thailand but cannot provide us with their location or address, then an element of skip tracing may be required prior to the service being completed.
Skip tracing in Thailand can be precarious; much depends on the information which is available and any leads that we are able to find.
As a leading detective agency based in Thailand, we can also call on our expertise and local contacts to trace people before serving them with documents.
If you require our help with skip tracing prior to process serving, then we will need you to provide us with all of the relevant details on the subject and their potential whereabouts. From there we will consider your case and offer a free quote if we are able to help.
How to proceed
When getting in touch with us regarding process serving, please include as much information as possible in your inquiry. For example, in which province/districts you need us to work, the type of documents to be served and basic information about the recipient. If the recipient's location is unknown, please advise us on all the relevant details. We will do our best to help and respond to your inquiry as soon as possible.