Does your girlfriend work in a Thai massage parlor?
March 10, 2018 - Reading time: 5 minutes
Does your girlfriend work in a Thai massage parlour? Thai massage is famous the world over. If you mention "Thai massage" to anyone that hasn't visited Thailand, you might find that they associate Thai massage with the sex industry and mentions of so-called "happy ending massages". There are thousands of massage shops all over Bangkok, Pattaya, Phuket, Chiang Mai, and most areas where tourists are likely to visit. Many of them offer massages in large open plan rooms… Many other shops have private rooms that customers are lead to for their massages; and plenty other shops provide 'short-time' hotel rooms above the massage shop itself.
If someone tells you that they work in a massage shop in Thailand, it's impossible for you to know if they are involved in the sex industry or not. Many massage shops are legitimate businesses with the staff being trained at a massage school before starting work. Illicit businesses do not advertise themselves as such, as their activities are against Thai law. Genuine massage shops look identical to massage shops which might act as brothels and allow their staff to work as prostitutes. You cannot tell simply by looking at a massage shop if they have private rooms upstairs or offer other services to their customers.
Traditional massage shops in Thailand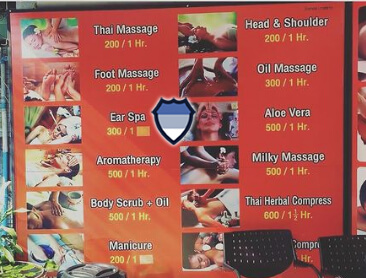 Photo: Prices at a traditional Thai massage shop.
Traditional massage shops in Thailand offer Thai massage and no other services whatsoever. Massage is a serious profession in Thailand with masseuses requiring training and a certificate to certify them as qualified in traditional Thai massage. If you arrive in Thailand, do not make the mistake of thinking that all massage shops are seedy places. Traditional massage parlours can provide you with world famous Thai massage for an affordable price.
Traditional Thai massage usually costs between just 200 to 300 THB for a 1 hour massage (leaving a tip is recommended). Many tourists and residents of Thailand enjoy traditional Thai massages on a regular basis. Massage parlours usually have their prices posted at the front of the building and typically offer foot massage, Thai massage, oil massage, head/shoulder massage, and other treatments. Ladies that work in traditional massage parlours tend to wear traditional masseuse uniforms.
Soapy massage shops in Thailand
So-called soapy massage in Thailand is much different than traditional Thai massage. 'Soapy massage' usually means body to body massage with one or multiple Thai ladies. Entering in a soapy massage parlour you will typically be greeted and choose which lady you would like the services of. Some soapy massage places will offer drinks and a lounge area, so that customers can take their time selecting a lady from their line-up while drinking alcohol. With traditional Thai massage parlours, the customer does not usually choose a lady to massage him or herself in this way. Suffice it to say that traditional Thai massage is also usually much cheaper than soapy massages.
Happy ending massage shops in Thailand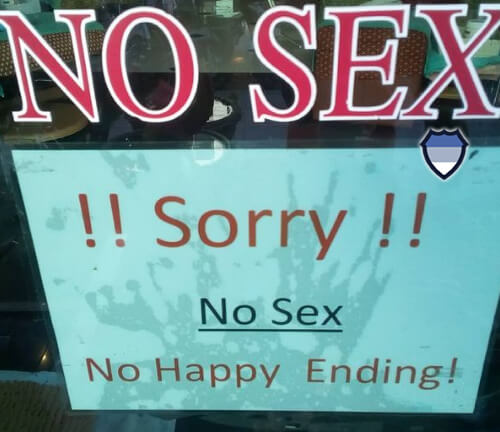 Photo: This shop is keen to advertise that it does not offer happy endings of any kind!
How do you know that a massage parlour is offering other services that may leave you with a happy ending? Well, a soapy massage parlour will definitely fall into this category. You may be able to get an answer to this question by taking a look at the massage shop, but not always. Some traditional massage shops can also offer other services, and judging this from the outside can be difficult.
Some more seedy venues will have ladies more scantily dressed or not in uniform, however, it can be very difficult to judge the establishment by looking at it from the outside. Often time discretion lies with the lady giving the massage as to the services that she offers or provides.
Check your Thai girlfriend
The only way to be sure that your girlfriend or partner is not selling sex or 'massages with extras' is to hire a private investigator… And that's where we come in. We have checked countless Thai women that were working in Thai massage parlours and sometimes offering additional services or extras. We can guarantee you the best access to the truth and offer nothing but facts in how events unfolded. We never pay for extras or sexual services; our job is only to establish the truth and report back to our clients.
If your Thai girlfriend is working in a massage parlour then we can help to check and find out what her work entails. We work across Thailand, please get in touch with us for a free quote.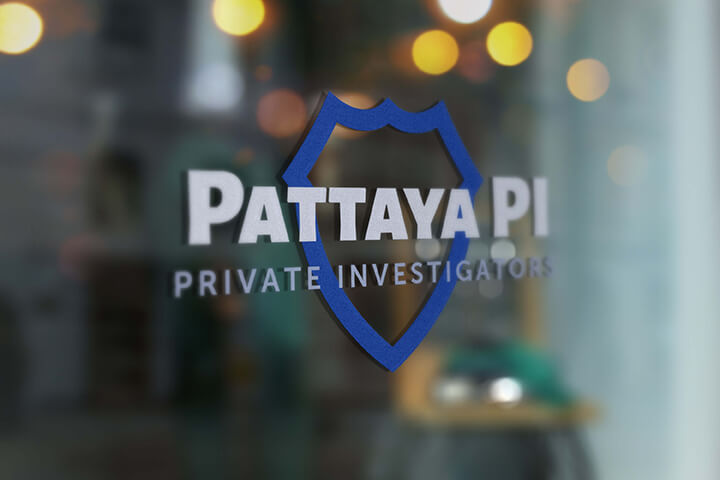 Learn more about Pattaya private investigators.