Husband cheating in Thailand
May 4, 2020 - Reading time: 7 minutes
Is your husband cheating on you in Thailand? As a leading detective agency, we have seen literally hundreds of foreign men commit acts of infidelity during their visits to Thailand. These men come from all different ages and walks of life. However, don't just take our word for it. We have found many posts online with woman complaining about their partners' infidelity during trips to Thailand: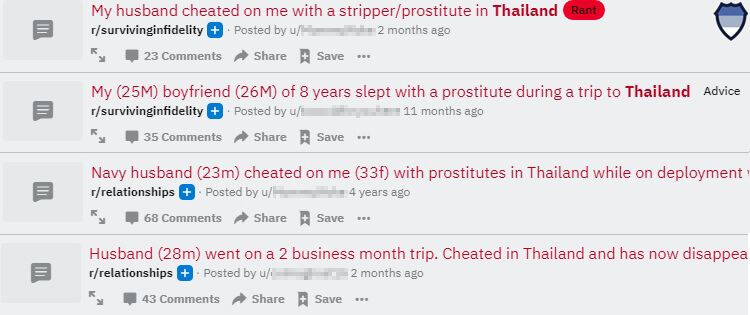 As is seen in these posts, men that pay for sex in Thailand don't seem to fit any one stereotype. We have caught men ranging in age from their early twenties up to men in their eighties, and everything in-between. We have seen men that claim to be visiting Thailand for business engage in the sex industry, however they more often visit for vacations or 'holidays in the sun'. Some men visiting Thailand will use excuses such as "I'm just visiting Thailand to play golf!" or "I'm just going to scuba dive"… These alibis often work, especially if their wife or girlfriend has never visited the red light districts in Thailand and doesn't understand the prevalence of the sex industry here.
Where do men pay for sex in Thailand?
Men can pay for sex in many different places, including venues such as go-go bars, nightclubs, massage parlors, discos, karaoke bars and gentlemen's clubs. However, most of the time we catch men soliciting prostitutes in beer bars. Bars seem to the top choice for foreigners looking to pay for sex in Thailand. Women that serve beer at Thai bars are effectively prostitutes… They earn a small salary each month and a percentage every time a customer buys them a drink. When a customer decides to take a lady from the bar, he will pay a fee to the bar itself in exchange for taking their staff, called a 'bar fine'. In addition to the 'bar fine' the customer will also need to agree a payment to the lady herself.
If your boyfriend or husband tells you he is just 'having an innocent beer at a bar', realize that he is in the company of prostitutes. He is being served drinks by prostitutes who will usually make light conversation, ask him to purchase drinks, and find out whether he is interested in taking them back to his hotel room. Some bar girls can be persuasive and even aggressive as they seek out customers in order to earn a living.
Night clubs are also popular with foreign men visiting Thailand; the clubs tend to be frequented by 'freelancers'. Freelancers are simply freelance prostitutes that hangout in clubs, bars and sometimes even restaurants that encourage the ladies to work there. Freelancers can also earn a commission on drinks purchased for them, depending on the venue. Of course, in many areas of tourist-geared cities such as Bangkok, Pattaya and Phuket, freelancers can also be found loitering on the side of the road where they aim to meet clients Massage parlors are also very common venues for foreign men to pay for sex while visiting Thailand. Massages are often given in private rooms or behind curtains, with the masseuse having discretion as to the services she decides to offer.
The dangers of sexual tourism in Thailand
Men that pay for sex in Thailand can often become walking health hazards to their partners back home. According to statistics published by Avert.org, Thailand has one of the highest HIV prevalence in Asia and the Pacific… HIV rates are reported to be exceptionally high among female sex workers - as high as 20% in Bangkok. While men that hire prostitutes in Thailand might use condoms, many of these men insist on receiving fellatio without protection, which carries its own dangers. According to research published by the NYPost, sex tourism in Southeast Asia fueling rise of 'super gonorrhea', which is an STI that has developed antibiotic resistant properties, making it difficult to treat. Professor Johnjoe McFadden, a molecular geneticist at Surrey University, has said that "sex workers in popular getaways including Thailand could be fueling a rise in antibiotic-resistant STIs". Many women understandably ask their partners to take tests for sexually transmitted diseases on their return from Thailand. 
Psychology behind husbands cheating in Thailand
Men that cheat on their partners while in Thailand might not normally do so while in their home countries. In Thailand, thousands of miles from their homes, these men often feel that they can get away with committing infidelity undetected. With the influence of alcohol and sometimes prostitutes that are very eager to earn money, the temptations can prove too difficult to resist for many men. We have seen numerous cases where small groups of men visit Thailand together. Away from their wives and girlfriends back home, they go on to hire multiple different prostitutes during their visits here. Whether they have agreed a 'code of silence' or not, we see this type of behavior very often. Other men that are visiting Thailand as part of a group will solicit prostitutes alone, sneaking out of their hotel rooms while their friends are asleep or splitting off from their groups… However, this type of behavior is rare in our experience.
Prepare for the results
Having operated in Thailand for many years, nothing shocks us anymore. Typically men visiting Thailand that are investigated by us will be seen with numerous different prostitutes during their stays here. We have caught men spending time with women that are much younger than themselves, with ladyboys and sometimes with other men. If you're deciding to start an investigation with us then it's important to consider any potential outcomes and how you might react. We aim to capture high quality images/video which acts as evidence and leaves no doubt in your mind. These images are often used by our clients in their divorce proceedings… If you are intending for us to gather evidence for use in legal proceedings then it's important to let us know ahead of time so that we're able to accommodate your request. Other women that have caught their partners cheating in Thailand with our help have decided to change the locks on their property and leave their husband to be greeted by their clothing laying on their front lawn on their return. While we absolutely do not encourage this type of behavior, taking the opportunity to receive legal advice while your husband is out of the country is often a wise move.
We can help
If you suspect that your husband or boyfriend might be cheating on you while in Thailand, we can help. We are experts at providing discreet surveillance and have caught hundreds of men committing infidelity here. Our agency has divisions in Pattaya, Bangkok, Phuket, Chiang Mai, and we cover virtually the whole country. If you suspect that your partner might be cheating on you during his trip to Thailand then please feel free to get in touch with one of our experienced team members for a free, no pressure quote.