Read this if your husband is playing golf in Pattaya
March 24, 2019 - Reading time: 3 minutes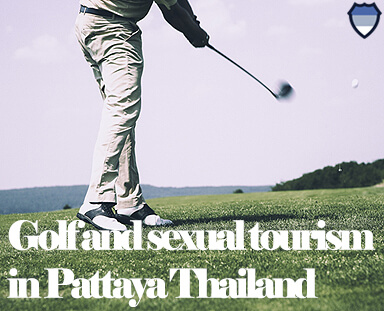 So your husband is visiting Pattaya for "golf", what's the problem? Every man we've ever investigated that has told their partner they were visiting Pattaya for golf also came to the city for something different entirely. He might have paid for a very expensive golfing holiday; he might be playing golf every day. But what is he doing in the evening time and the night time? Many are out picking up women to spend the night with.
Thousands of single men come to Pattaya on holiday every year. Pattaya is often described as the largest hub for sexual tourism on planet earth; with an estimated 27,000 active prostitutes the city is known as a place where middle aged men come to pay for sex. Many of these men are single, however many others have wives or girlfriends at home.
Typically men that are visiting Pattaya to meet hookers will pay for at least one different lady to spend the night with them every single day. This is what we have come to expect and it makes our job easier if the man is sleeping with this many women. Some other men that holiday in Thailand will find a lady working in a bar and pay her an agreed price for her to stay with him every day during his holiday, like a paid short term girlfriend.
There are golf courses in and around Pattaya, of course. However Pattaya is most well known as "sin city" with thousands of strip clubs (go-gos), beer bars, discos, and many other places designed for women to hook up with men. Search online for information about Pattaya and it will become imminently obvious what the focus of this city is for thousands of guys. It's almost like the golf courses were built to give an alibi for their activities.
If your husband is holidaying in Thailand, we can help you. Don't let your partner run around wild when you're not on vacation with him. Thousands of men will unleash their inner demons when visiting Thailand safe in the knowledge that their wives or girlfriends back home will never know. We can, and have, changed this for many women.
If we're able to secure photographic evidence showing that a man is cheating there is effectively nothing he can say or do to dispute this. The camera never lies and excuses often fall on deaf ears as a result.
Get in touch with us for a free quotation and see how we can help you.