Catch a cheating husband in Pattaya
January 31, 2019 - Reading time: 3 minutes
Is your boyfriend or husband visiting Pattaya, Thailand? Pattaya is well known as the largest sex tourism destination on earth and has been described as 'the sleaziest city in the world'. There is an estimated 27,000 active prostitutes in Pattaya, which is roughly one in every five people living in the city. Sex is sold literally everywhere in Pattaya and you can't avoid it. Any foreign man visiting Pattaya is more than likely going to offered sex at some point. Will your partner resist the temptation knowing that you are thousands of miles away...?
Many foreign men will hook up with bar girls. These are ladies serving up beer and liquor in pubs and bars all over the city, but this isn't the main function of their job. They will also leave the bar with any willing customer, with prices as low as $30 US dollars. If your husband is sitting in a beer bar at any point during his stay, he will be speaking with eager bar girls looking to earn money through spending time with foreign men.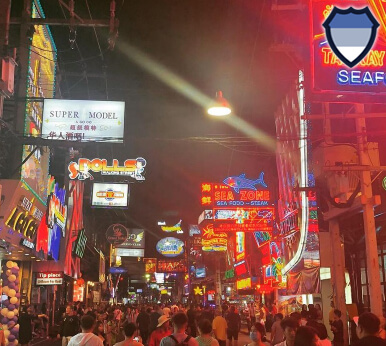 But it doesn't just stop there. Sex and sexual services are also on offer at massage parlors, go-go bars, nightclubs and by countless women that loiter beside roads and sidewalks looking for customers.
If you've never visited Pattaya, it can be very hard to describe the anything goes atmosphere, there truly is nowhere like it in the world. You could try watching videos showing Pattaya's tourist areas to get an idea about what goes on. If you're very lucky you might even spot your partner in the act.
We have no doubt over what foreign men are getting up to when they visit Pattaya without their partners, and you shouldn't either. Men visiting Thailand for sexual tourism purposes can often share sexually transmitted diseases with their partners back home. If your husband or boyfriend is visiting Thailand you should be aware of the type of activity they are involved with.
Party cities such as Pattaya cater to men visiting from abroad and prostitutes can be found in every corner of the city.
Most of the foreign men investigated by us are found to be cheating on their partners. Evidence gathered by us has been used in divorce proceedings and can serve as undeniable proof that a man has been paying for sex whilst holidaying in the land of smiles.
We have found that many forigen men have one thing on their minds when they arrive in Pattaya and that is sex. If your boyfriend or husband is staying in Pattaya, then get in touch with us. We offer free, no pressure quotes for all work.