Private investigations in Isaan, northern Thailand
April 24, 2018 - Reading time: 2 minutes
At PattayaPI, we have completed many successful operations in the northern region of Thailand (known as Isan, Isaan, or Esarn). We believe this is a very important part of our work, and here's why.
Many Thai people grow up in the north of the country, typically in rural farming communities but move to either Bangkok, Pattaya or Phuket to find work and earn money.
It is widely accepted that the majority of ladies working in beer bars, massage parlors, or elsewhere in the tourist industry have come from Isaan in the north of the country. Typically they will leave their children in the care of their grandparents while they work and send money back.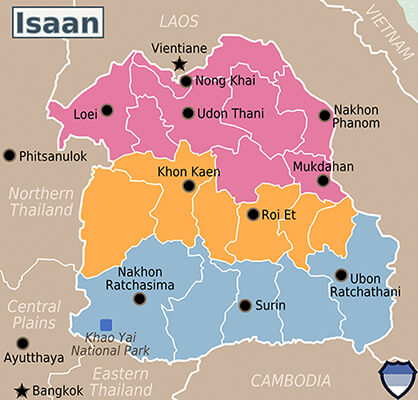 In this region of Thailand the Laos language is spoken. This dialect is not typically learned by foreigners living in the kingdom and many people find it hard to understand the subtle cues of this language. It is very important that we retain staff from all walks of life and positions in the Thai class system in order to complete investigations successfully. This could not be truer in Isaan. We treat all cases sensitively and with complete discretion.
Well known provinces in Isaan include Buriram, Surin, Khon Kaen, Udon Thani, Kalasin and Nong Khai. Although people from all the different provinces tend to migrate to Bangkok or Pattaya for work. We are able to work in all provinces of Thailand.
Many people's secrets lay in their hometowns, and in some cases the only way to get to the bottom of untruths is to go directly to their homes, in the small communities of Isaan. We have developed unique methods of social engineering which combined with regular investigative techniques; allows us to deliver an excellent service to our clients while providing value for money - almost anywhere in the kingdom.
If you find yourself needing a private investigator in Isaan, get in touch with us today and see how we're able to help you. We offer free, no pressure quotes for all work.
Our company also offers private detectives in Phuket and Bangkok.