Thailand death certificates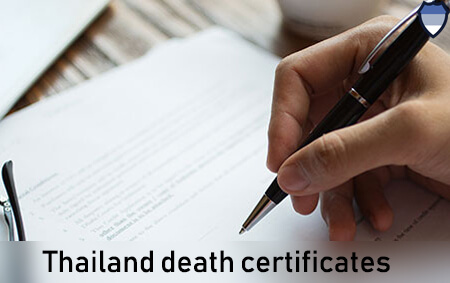 Do you need to obtain a death certificate in Thailand? Our investigators are able to help you in acquiring these documents and translating them into the English language (where required).
There could be many reasons behind needing to get a Thai death certificate. Perhaps you represent an insurance company and are looking to verify the facts in a case, or maybe you are the relative of a deceased person and require this certificate to progress a life insurance claim.
We often retrieve death certificates for oversees detectives, be they private investigators themselves or foreign law enforcement. We have even provided these documents to family members that might be seeking closure or to better understand the circumstances of their loved one's passing. Perhaps your spouse is a widow and you'd like to better understand the circumstances of their ex-partner's passing. There are countless different reasons why you might need us to obtain a death certificate for you.
How to get a Thai death certificate
If you are a relation of the deceased and located in Thailand, it's a relatively straightforward process to request the death certificate from your local amphur office. Note that death certificates will only be released to relations of the deceased individual.
However if you are outside the country, it can be a real struggle to obtain the certificate. It's not possible to search for death certificates online in Thailand, as the records are stored in paper format and not digitized. We can help if you are struggling to obtain a death certificate.
We aim to provide our clients with a cost effective, fast and hassle free service.
If you need help to obtain a death certificate or other documents in Thailand, then please reach out to our team. We offer free quotes for all work and will do our best to assist you.
When contacting us, please include as much information as possible, such as the province where the deceased passed (if known), their nationality, and your relationship to them. This will enable us to help you in a timely manner.