Thailand birth certificates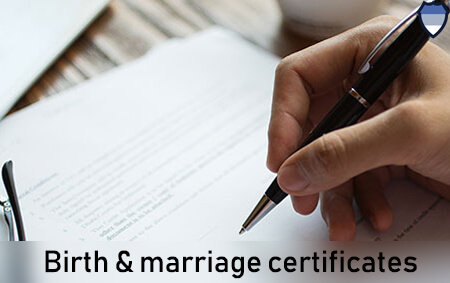 Do you need to obtain a Thai birth certificate or marriage certificate? Our investigators are able to help by searching for and retrieving civil documents. Feel free to get in touch with one of our experienced team members for help and advice.
Registration of birth has been enforced since 1917 in Thailand. Births must be reported by the child's parent or authorized person within 30 days. A personal identification number will usually be assigned by the District Registrar at the time of registration of birth.
Birth certificates are necessary for all aspects of life in Thailand, from enrolling in school, obtain a passport, buying property, obtaining a driving license, and for many other different legal purposes.
There could be many reasons that you need to obtain a birth certificate, and we are happy to help with this.
How to get a birth certificate in Thailand
Usually copies of birth certificates can only be obtained by authorized personnel at their local amphur office from inside Thailand.
At the time of writing it is not possible to search birth certificates online in Thailand. The document must be obtained in person through your local amphur (amphoe) office. If you are not currently in Thailand or find yourself struggling with this process, our agents are able to help you in obtaining the document. We can also help to search and retrieve many other different documents for all manner of reasons.
When getting in touch with us regarding birth certificates (or civil document retrieval), please include as much information as possible with your initial inquiry. Such as which province the subject was born in (where known), whether the birth took place at a hospital or elsewhere, and any information which you hold on the subject… For example, do you have a copy of their Thai national ID card or passport? Do you have their full name and date of birth? This information will help us to guide you and provide a free quote.