Common lies that Pattaya bar girls tell foreigners
October 9, 2018 - Reading time: 4 minutes
If you are involved with a bar girl that works in Pattaya, lies are something you're (probably) going to encounter over and over. With that in mind, we've written out the most common lies that bar girls in Pattaya tell foreign men...
1. "I don't go with customers, I will call you at the same time every night as proof"
This trick works on 9 out of 10 foreign men. The lady will tell her boyfriend that she will call him at the same time every night when she finishes working in the bar. "She can't be sleeping with customers if she calls me at the same time every night" many men will think. Wrong. Thai bar girls will often insist on making a trip to the 7/11, why? So they can go alone and call their boyfriends. Other times they can go back to their room to collect clothes, whilst there they can video call their boyfriends from the room before leaving again. Some bar girls will even make phone calls from the toilet of their customer's hotel room, or the balcony. Some bar girls even make phone calls to their boyfriend in front of their customers. Other bar girls insist on only short time sessions and therefore returning back to their rooms at the same time every single night. The sad truth is that this lie helps to convinces many men to stay in relationships with bar girls that continue sleeping with other guys. It's not nice and there is potential for the lady to spread diseases to her unaware partner
2. "I don't have a boyfriend"
If you speak to a bar girl in Pattaya and she says that she does not have a boyfriend, don't believe her. A lady working in a bar would never actually admit that she is already in a relationship. For many of these women their goal is to be in multiple relationships with foreign men at the same time. Don't believe us? Take a look at this video which explains the mentality of many ladies in this environment. As private investigators, we can easily find out if your girlfriend is claiming to be single while you're out of town!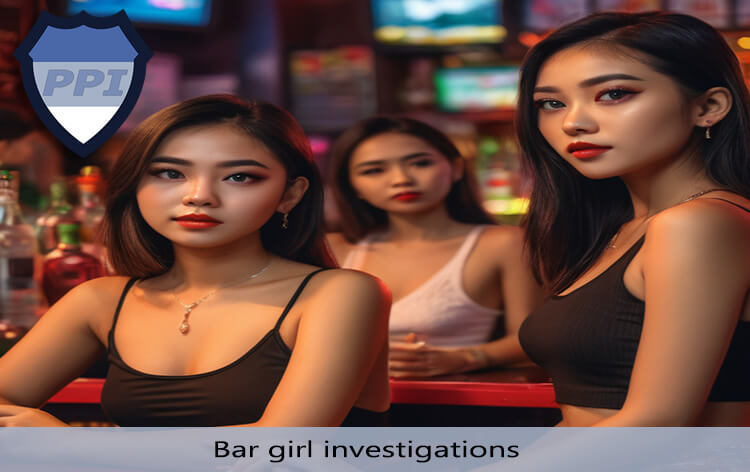 Learn more about bar girl investigations.
3. "It's my first day or week or month in the bar"
Bar girls aren't dumb. They know what you want to hear and would never admit to working in the bar scene for several years. They will almost always lie and claim to be fresh on the scene, whether she says that it's her first week, her first month, or her second month in the bar. If she tells you that it's her first day or week in the bar, alarm bells should be ringing out very loudly. She's lying.
4. "I don't go with customers"
"I never go with customers" is one of the most common lies you're going to hear when you become involved in a lady that's working at a bar in Pattaya. The truth is, bar girls meager wages are designed to be bolstered by leaving the bar with customers as much as possible. If you don't believe us, we can find out if she is prepared to leave the bar with customers by visiting the bar ourselves and sending you a detailed report explaining her behavior. 
5. "I don't have children"
Bar girls fully understand that some men are not keen on a lady with one or two children. They will claim not to have any kids. It's also very common for bar girls to claim that they have only one child, when they in fact have two or more. If you decide to visit her family, she might tell you the children are her nieces or nephews. By the time you find out she actually has two or more children, you're already in love with her and less likely to walk away.
6. "You've got me pregnant!"
This is a common lie and scenario that regularly gets played out in Pattaya and Thailand. The condom ripped or you didn't use one and now just a couple of weeks later you're finding out that you're going to be a father. Many guys are tricked by this, they will return back to Thailand and spend more time and money with the lady they think is carrying their child. This is a very common tactic used by bar girls in Thailand to force men into committing to them. If you've got involved with a bar girl, go-go dancer, freelancer, disco singer, or any girl from any scene related to the sex industry, and she claims she's pregnant, you need to question this claim before you believe it.
We are experts at finding the truth for our clients and investigating Pattaya bar girls. We can find out very quickly if you're being fed lies. Our rates are highly competitive and we offer free quotes for all work. Get in touch with us today explaining your situation and we'll let you know how we can help.